2023 Office Tour!
Hello! I recently finished my office after about 6 months of work. I want to post a quick tour, mostly so I can look back on it down the road. But if y'all are reading that's cool too!
This is going to be mostly photos and little mini-reviews of some of the stuff I have in here.
Here's an overview just so the space makes sense.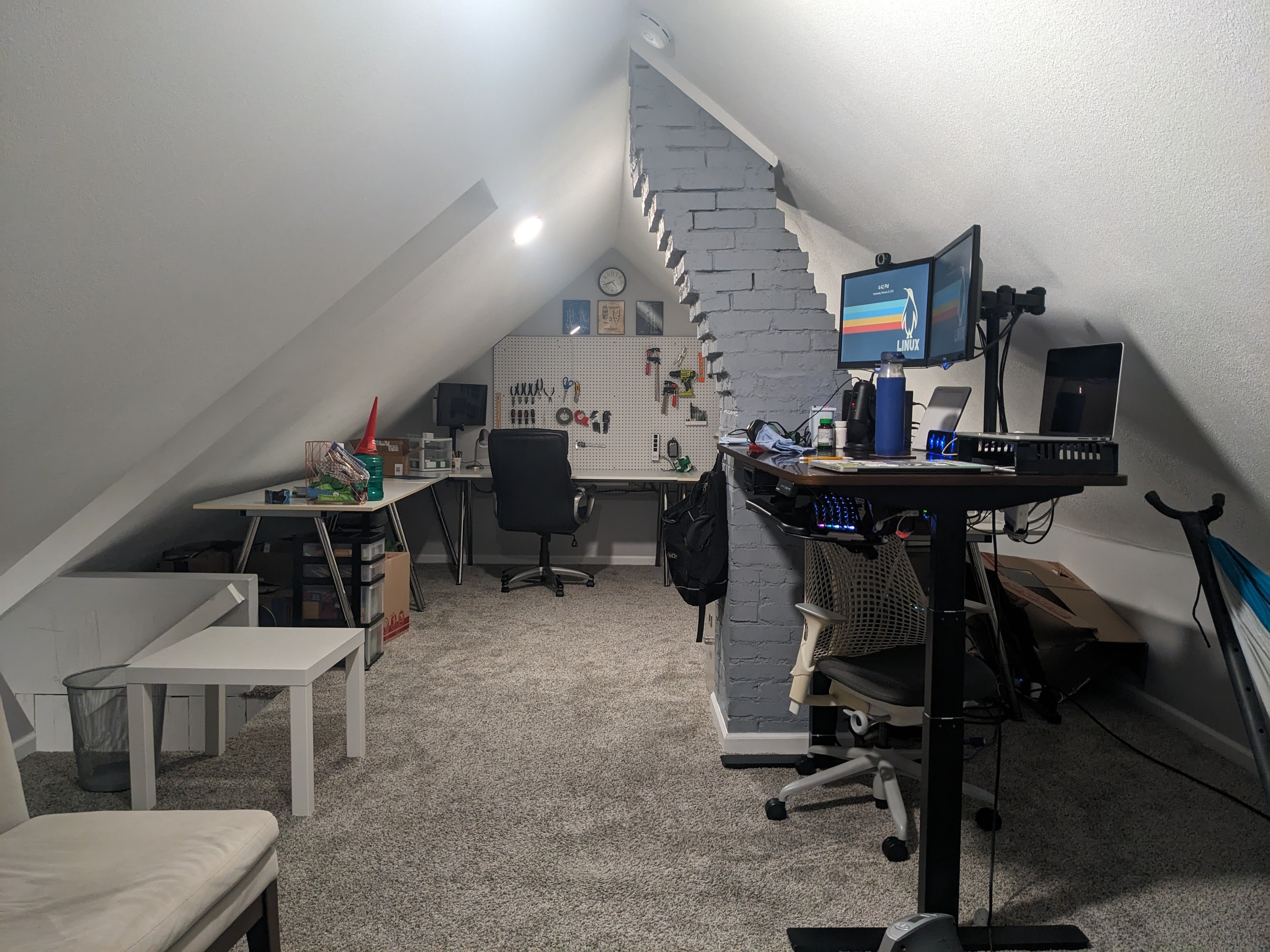 My office is in the attic of my home. At the floor it's the entire footprint of the house. But the ceiling is pitched, so in reality there's about 6 feet of space down the middle that you can comfortably stand in! Additionally, the entryway is about a 4 foot square with a tight turn. That means that most pre-assembled furniture just won't fit up here! This has made it a little challenging to furnish. But I think I've landed on something good!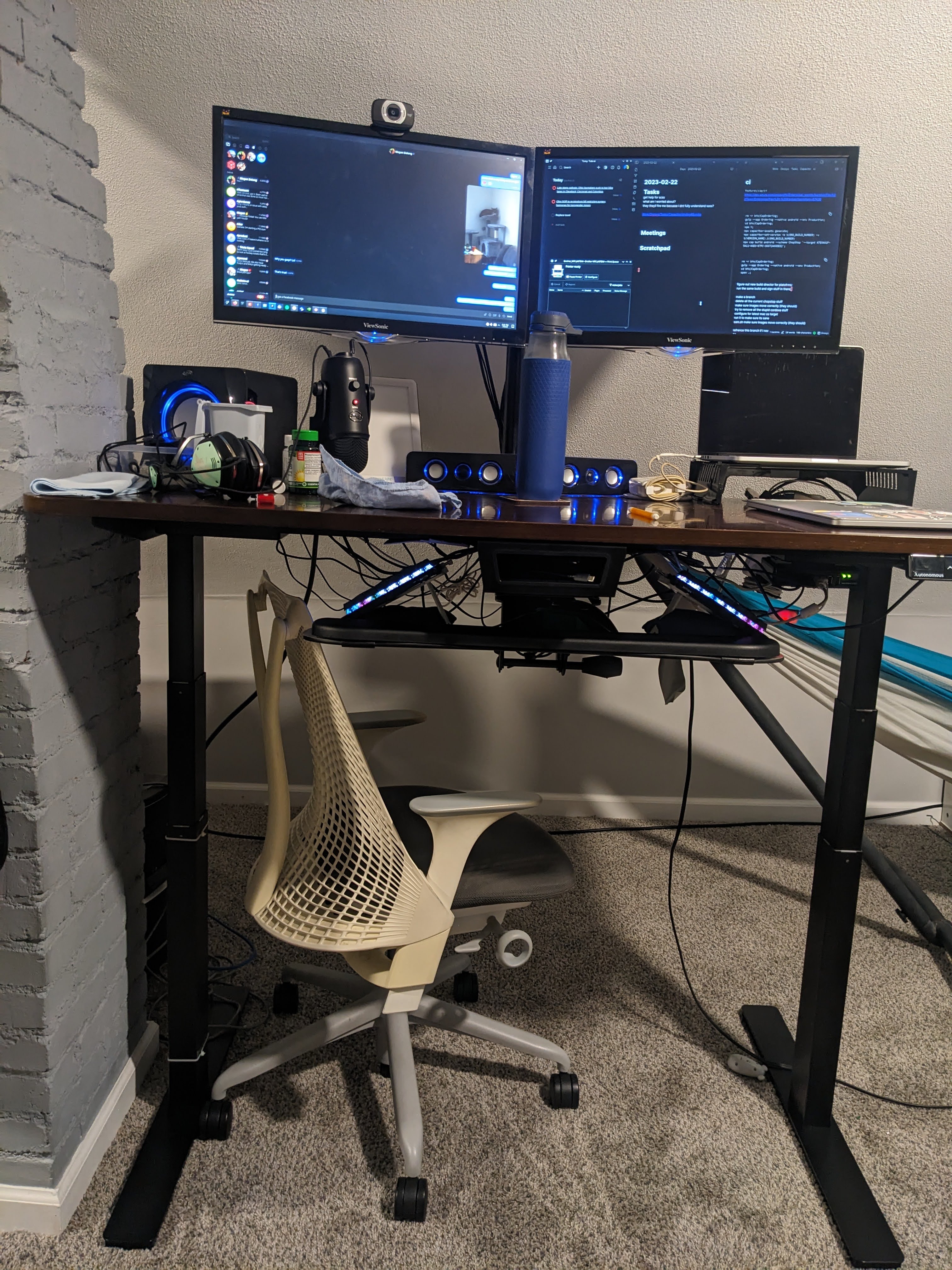 My desk is an Autonomous SmartDesk Pro. I got it for about half off the list price, and I think its great for a used desk. If I had to get a new one, I'd get one with a collision sensor, I've dumped stuff once and crashed into the ceiling a couple of times.
This side of the attic is a relaxation space, so it's filled with cute used furniture.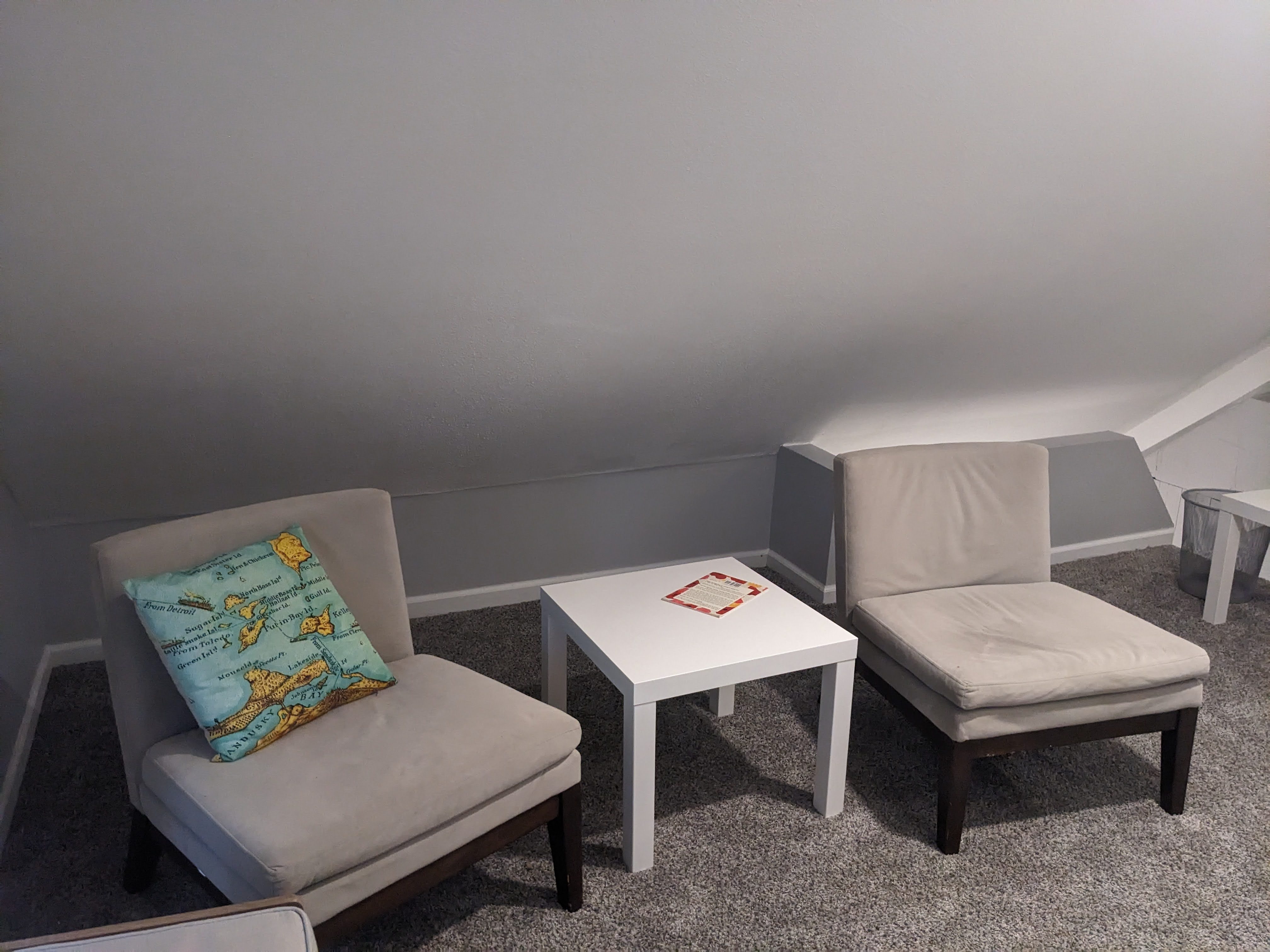 These chairs came of an office closure. Saved from a dumpster!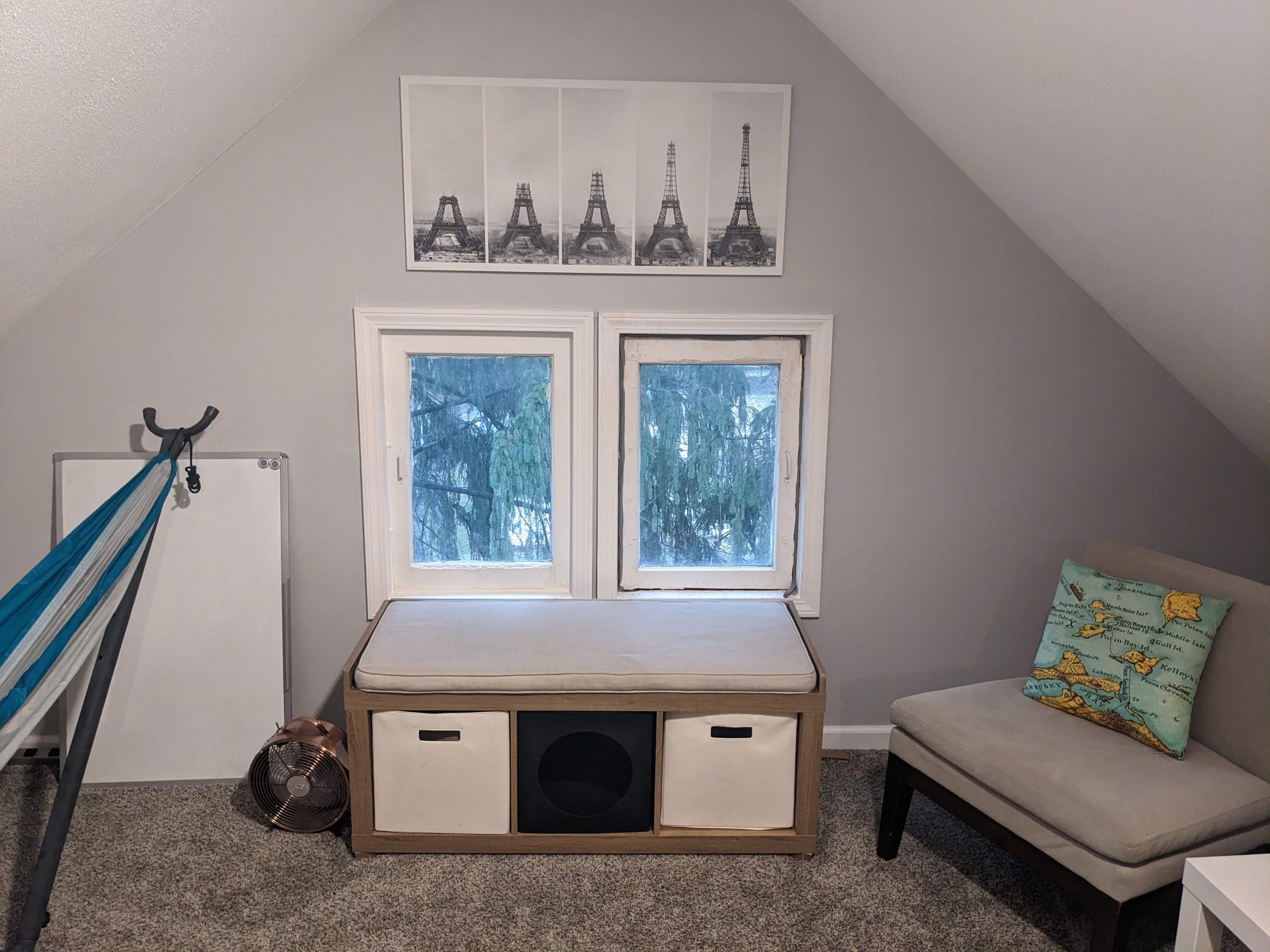 I absolutely love this view into the trees. And it provides some nice storage!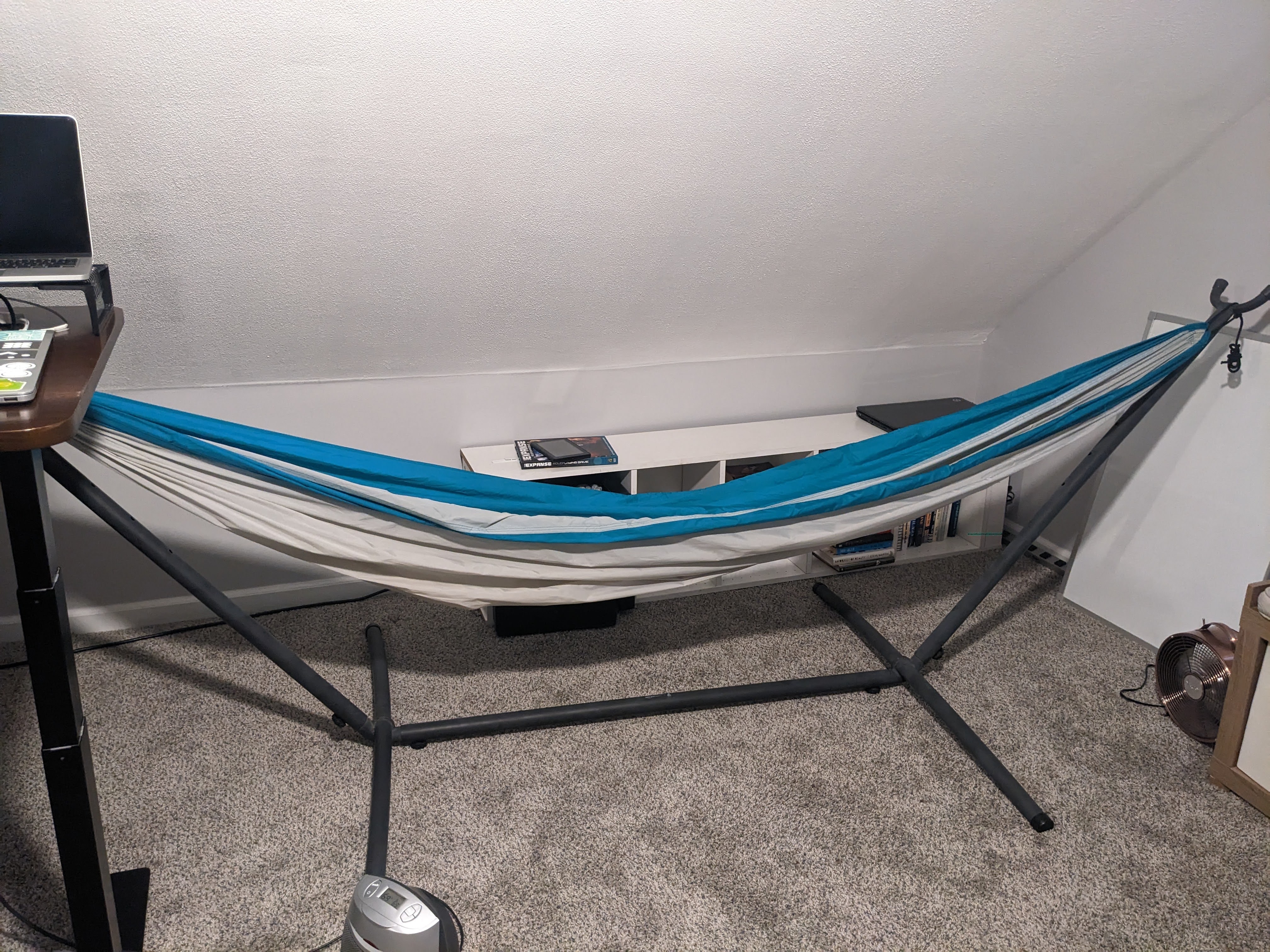 I've always wanted a hammock in my office, and now I have one! I didn't feel comfortable hanging a hammock off of the roof joists, so I went with a stand.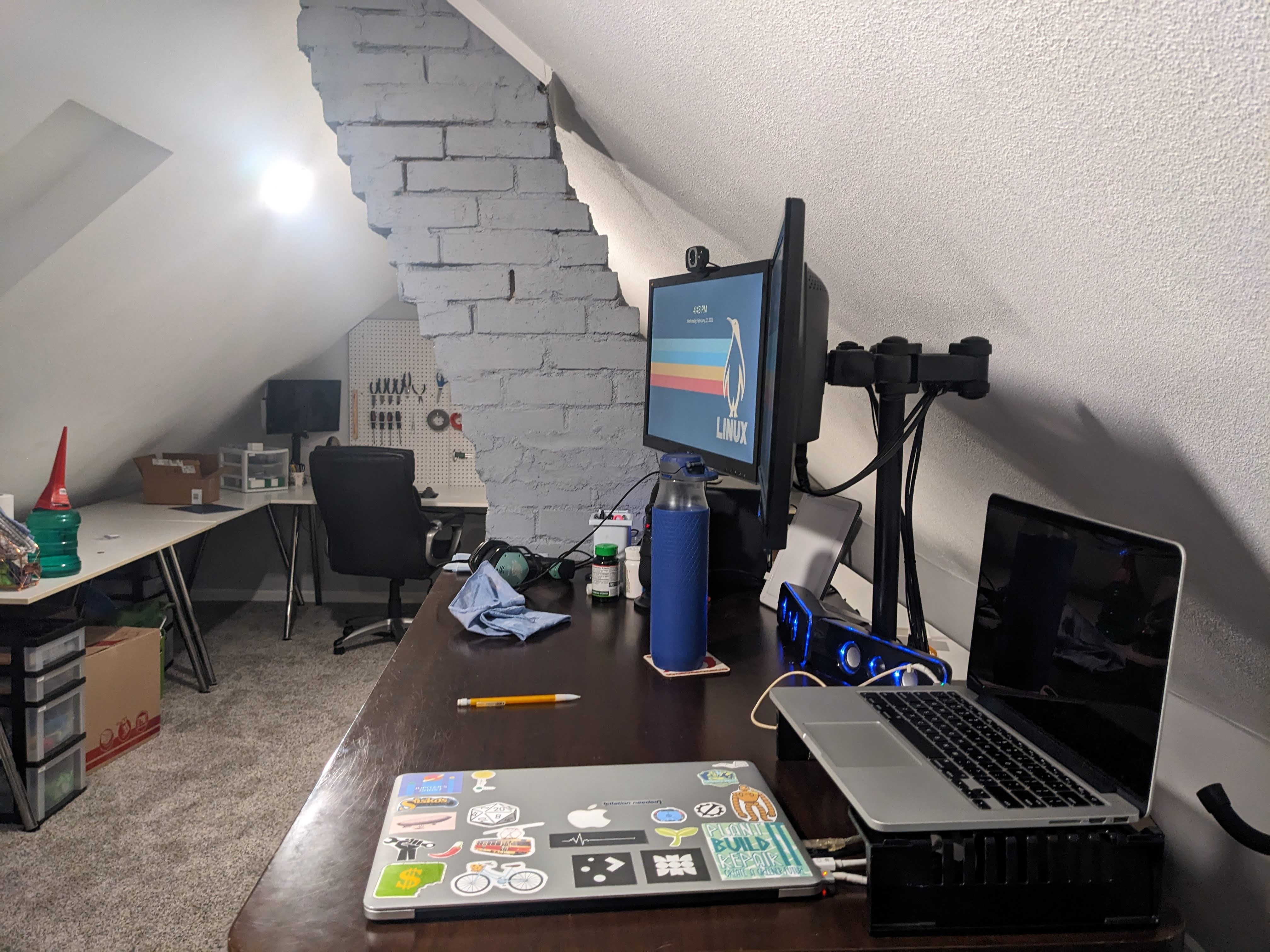 My desk is next to the chimney, which is not remotely straight! I asked an engineer about this, apparently it is very common of houses this age! Our house was built in 1904. I was told the builders probably just… missed when they built the chimney. So this was their solution!
---
The other side of the chimney is what I call my workshop!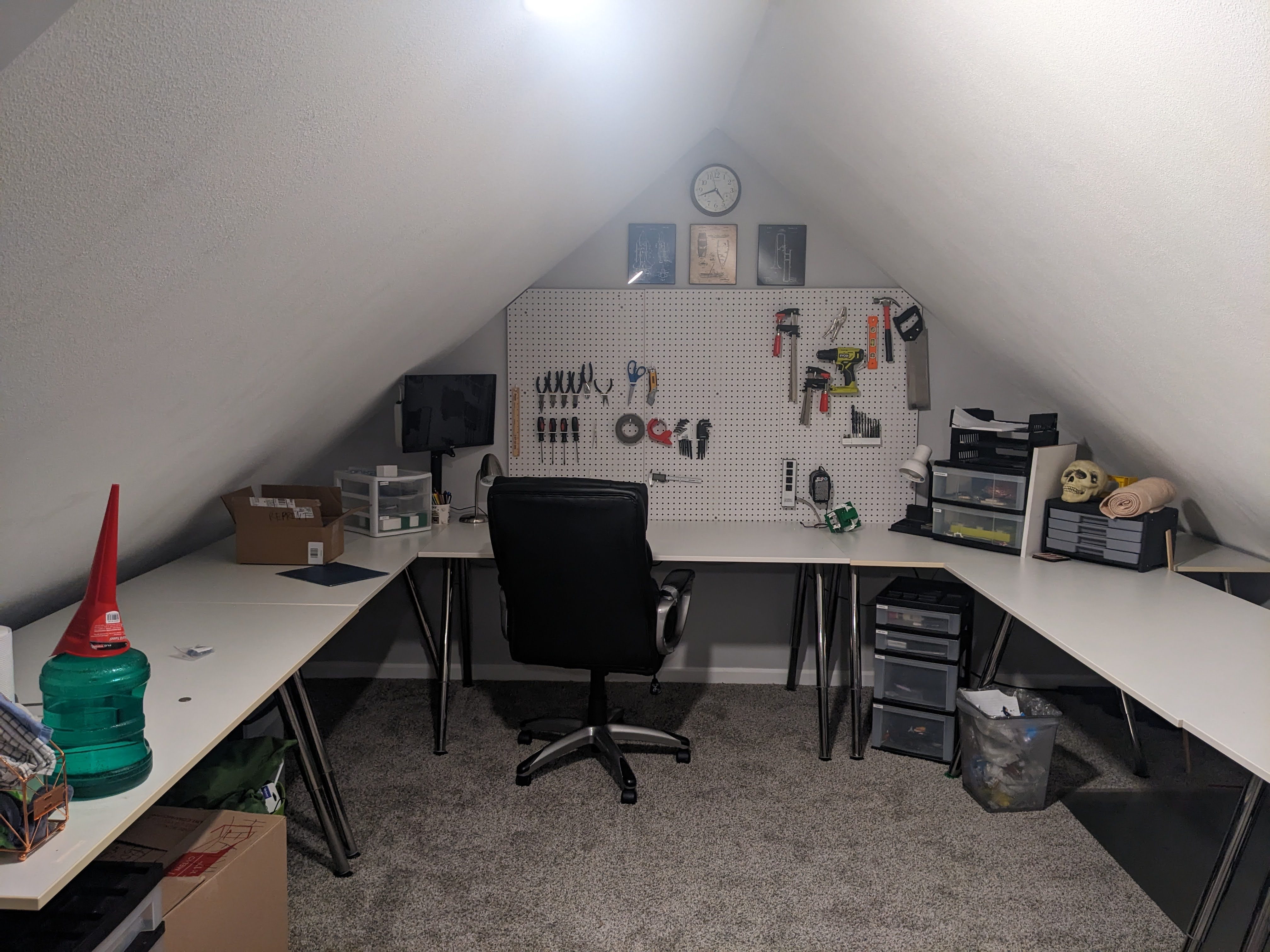 I got these desks from that same office that closed. These are 6 Ikea GALANT tables from probably about 10 years ago. They have a metal support along the bottom so they feel very strong!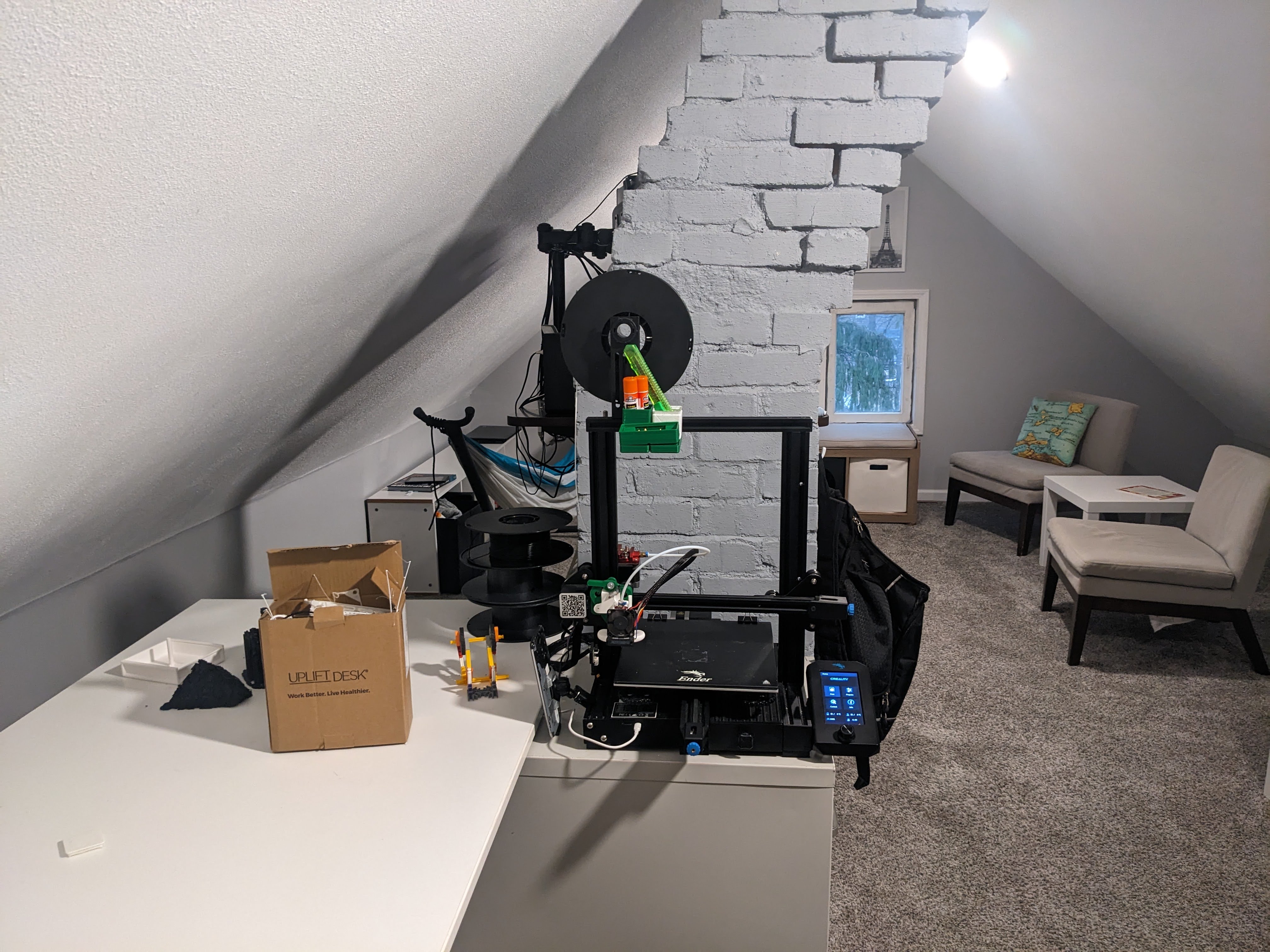 This area is my 3d Printer area. It's a used Creality Ender 3 Pro v2. It's sitting on a file cabinet, which seems to be working really well so far! I have plenty of room at the table right next to it to remove prints from the plate. And under the table is an old computer that runs octoprint.
Finally, the main workbench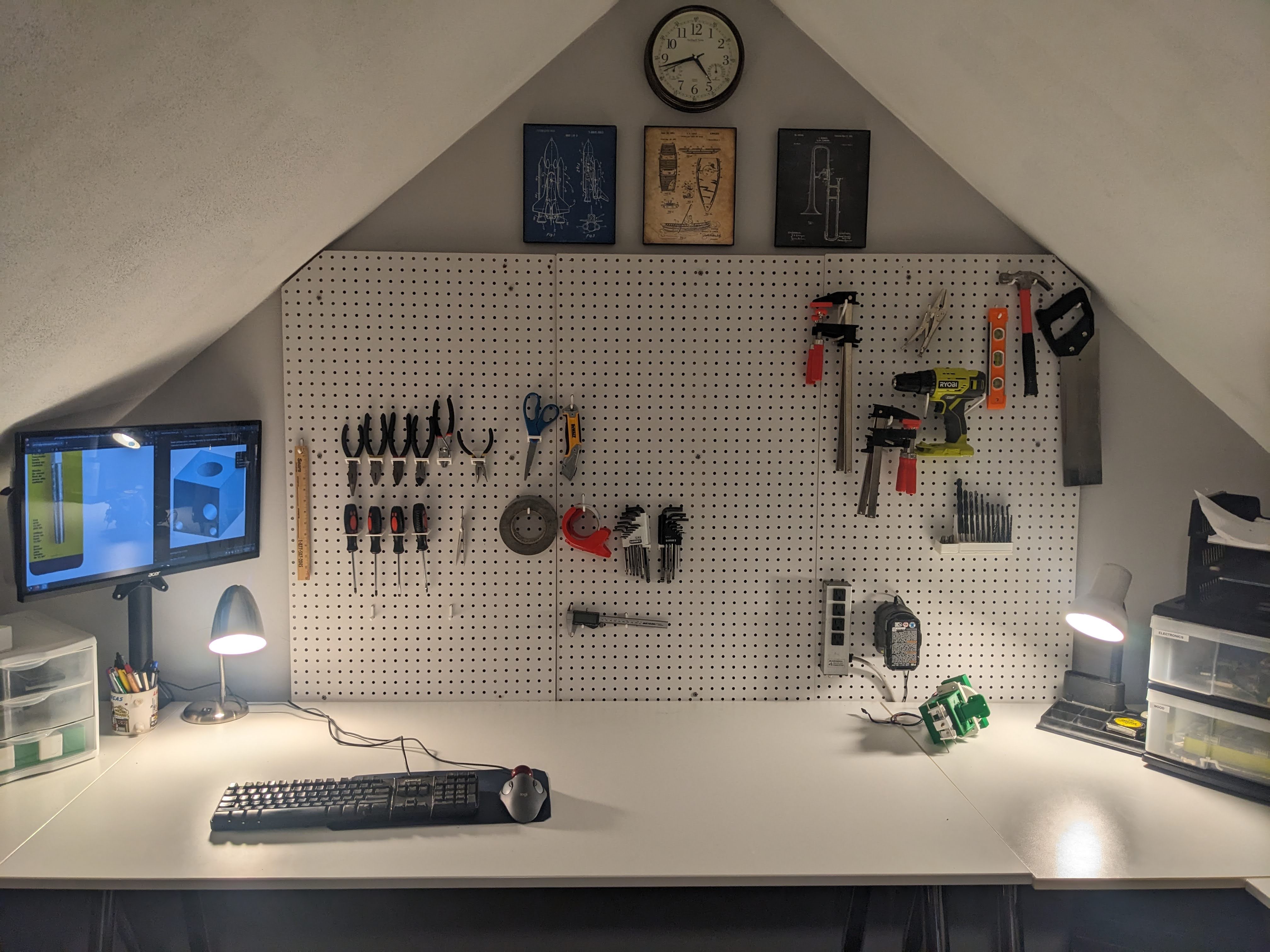 The pegboard was the most recent addition, and I'm loving it! Having a dedicated tinkering space has already been really helpful in moving forward some of my projects. Also being able to actually find my tools is awesome.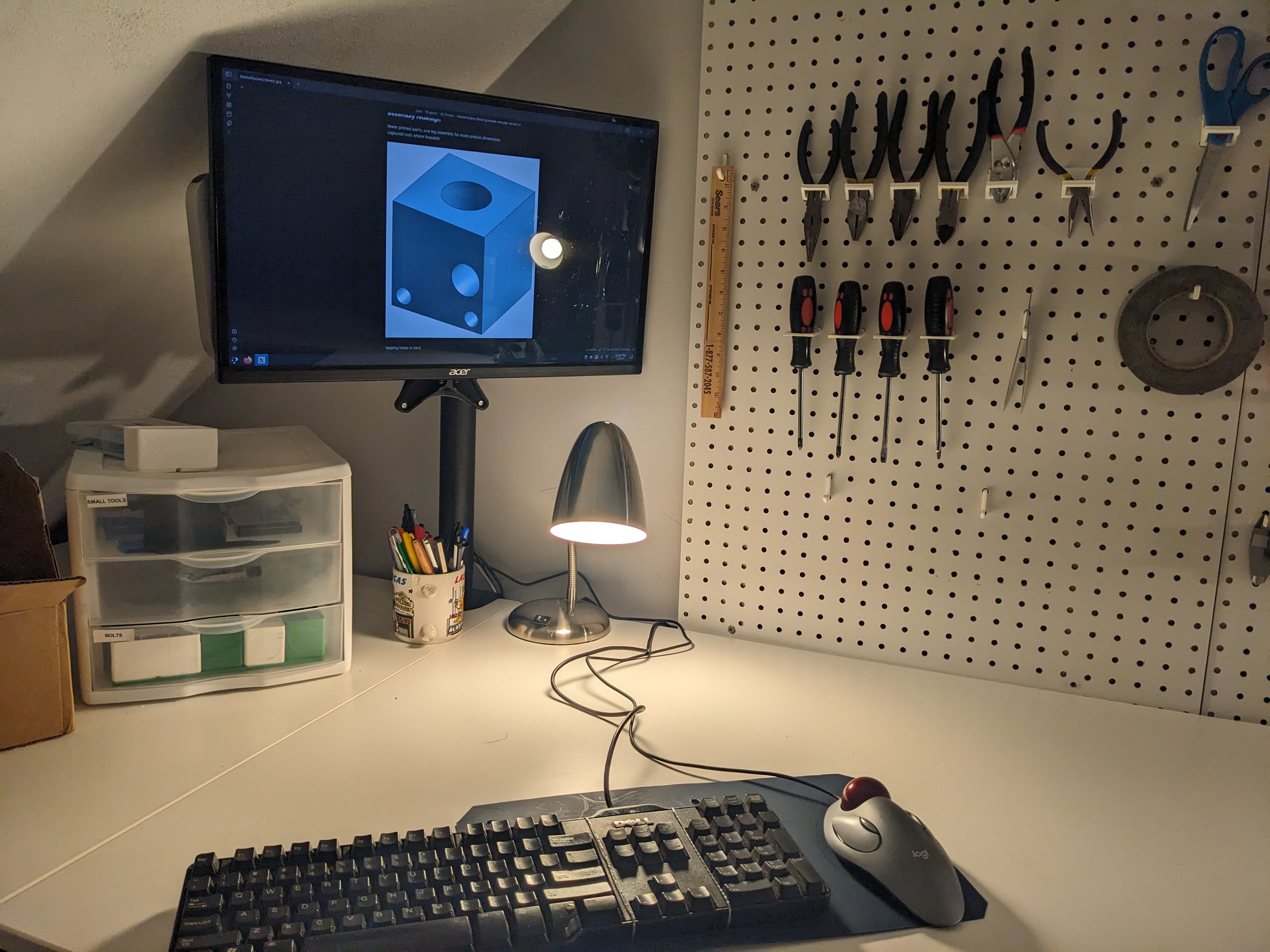 I made this little corner computer out of a bunch of leftover junk I had from that office. The computer is an ancient mac mini running KDE Neon. It's name is 'deadbeat', and it's job is to show schematics, guides, and take notes while I tinker.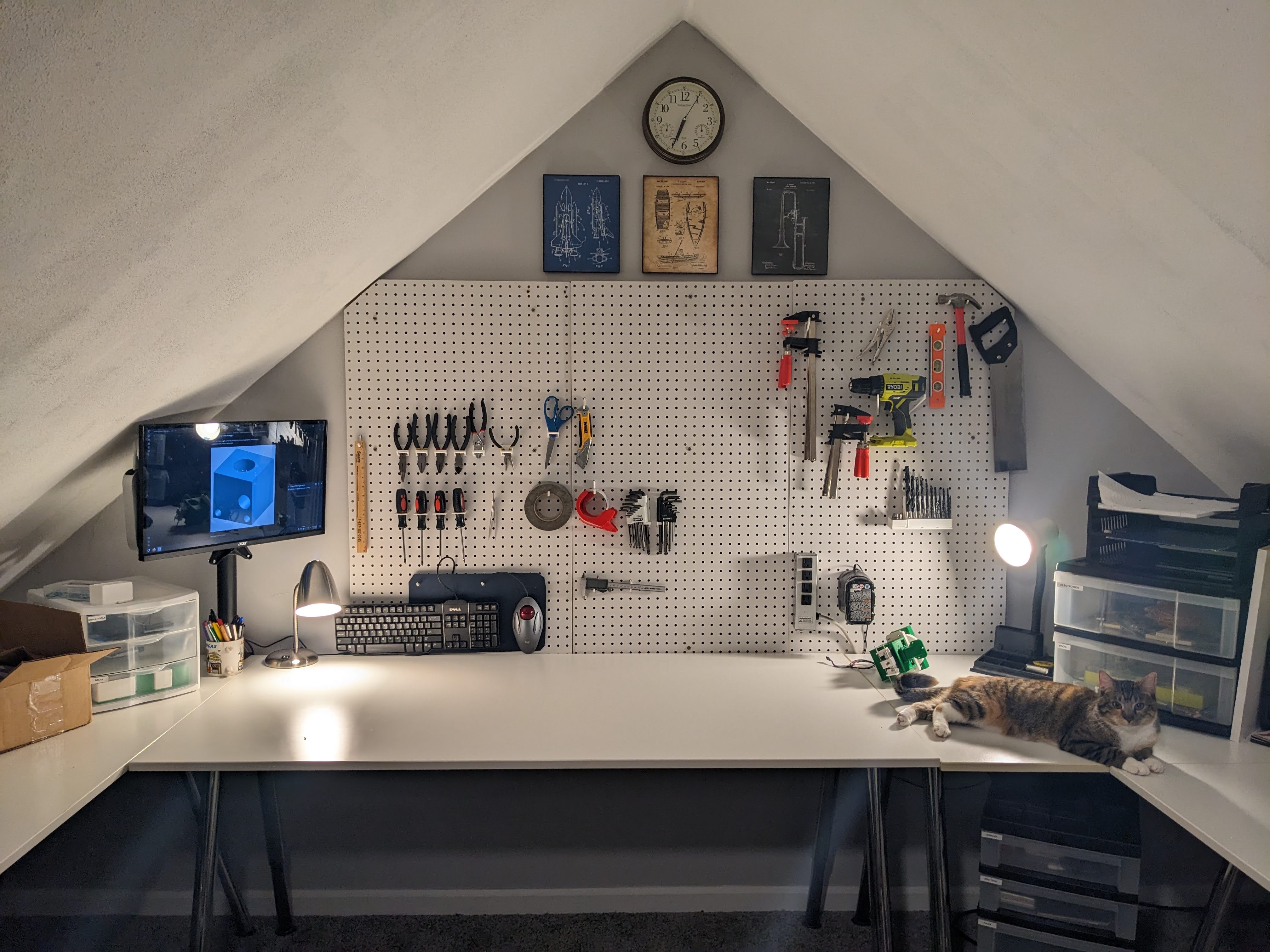 I'm also really happy with attaching the keyboard and mouse to a backplate. That lets me hang the keyboard and mouse out of the way to give me more desk space!
And finally my cat Scully loves to hang out with me up here!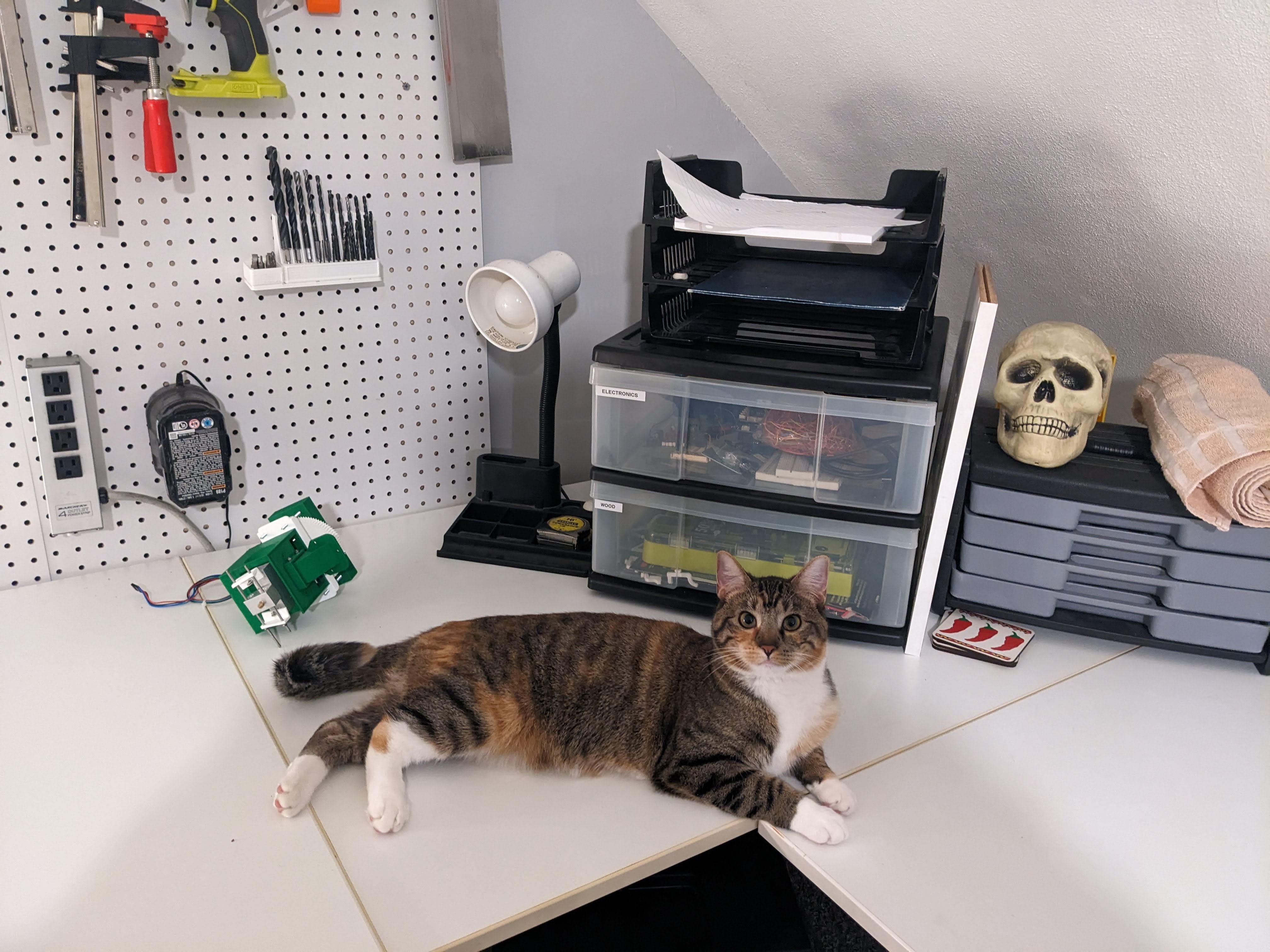 Thanks for reading :)